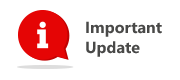 NIC introduced new feature in e-Way Bills and mandated them on 23rd May.Tally.ERP 9 Release 6.4.3 supports these changes.
With Tally your business runs uninterrupted
We understand that for you, growing your business is the most important thing. We have designed our product in a manner which easily fits into your business, adapts to your way of working and takes over all the complications to do with numbers of your business while you can focus on business growth.